Hazmat Trucking Services: A Step Above Other Trucking Companies
The foremost expectation of all hazmat trucking companies is that the delivery of hazardous materials must be handled by well-trained and experienced professionals to ensure safety and security. As a leading hazmat trucking company, Network Transportation is fully equipped to handle all types of hazardous materials transportation. Our years of experience have given us a deep insight into the importance of proper handling of hazardous materials. Like any hazmat trucking companies, we ensure that all drivers and personnel are fully aware and compliant of all state and federal guidelines when it comes to managing, delivering, and handling of hazardous materials.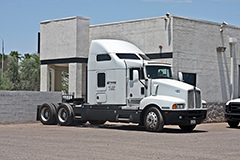 We strive to be one of most reliable hazmat trucking companies in Arizona serving the Southwest and other destinations across the United States. For all of your hazmat trucking needs and to request freight shipping rates for any trucking services, contact us online or by phone to receive a personalized freight quote.
Why Choose Us Over Other Hazmat Trucking Companies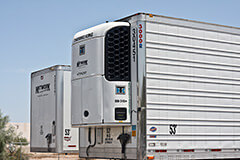 Your Product is Our Priority: We put our main focus on the safety and security of our customers' products. Unlike some other hazmat trucking companies, we believe that we are able to achieve high levels of customer satisfaction because we focus on following proper handling procedures, using the best tools, and employing a team of expert hazmat trucking drivers.
Regulatory Compliance: Non-compliance of any item is not tolerated with our employees or drivers. We ensure that our team is fully trained and equipped with the knowledge of handling hazardous materials that will ensure safety and security. All our staff undergoes rigid training and certification to make sure that we are able to meet the demanding requirements of hazmat trucking and deliveries.
Intricate Hazmat Trucking Experience & Knowledge: Not only is our staff familiar with both state and federal hazmat trucking regulations, they also have a comprehensive knowledge of the nature of hazardous materials and the manner by which these materials must be handled and stored. We make sure that safety and security is a highest priority from pick up to delivery. Network Transportation ensures that all our personnel are fully knowledgeable about hazardous materials and relevant regulations that will help us transport your product in the best and safest way possible.
Learn More About Hazmat Trucking with Network Transportation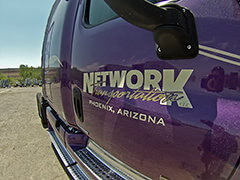 Hazardous materials must be handled with care to ensure safety and security of your products as well as everyone involved. At Network Transportation, we not only make sure that your materials and products are delivered on time; we will also assure you that they are delivered safely and securely with our hazmat trucking services.
To learn more what makes Network Transportation one of the most reputable hazmat trucking companies in the industry, call or contact us today. Call us today to request a freight quote for hazmat trucking and to learn more about all of the trucking services we offer.
Mission Statement
Our mission first is to haul freight for our customers safely and timely.
Work to provide simple solutions to our customers and get it right the first time.
Create and maintain an environment for our employees and contractors that encourages "out of the box" thinking and ideas that will help us grow.
Build long term relationships through ethical and moral business practices with a commitment to continuous improvement.
CONTACT INFO
825 S. 63rd Ave
Phoenix, AZ 85043
Phone: 623-936-5865
Fax: 623-936-5826