Network Transportation: Your Expert Trucking & Freight Carriers in the Southwest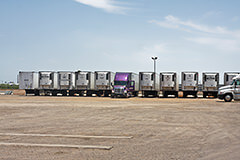 Most freight carriers and trucking companies aim to provide reliable service to meet their customers' needs. However, we at Network Transportation, go beyond just meeting the needs of our customers - our goal is to establish a continuous working relationship with our customers by providing excellent trucking services at cost-effective freight shipping rates.
As an experienced trucking company and freight carrier based out of Phoenix, AZ, Network Transportation, LLC offers a comprehensive array of services. We have been in the freight carrying and transportation business since 2008, and our staff has a combined trucking experience of over 100 years. We predominately serve the 11 Western States, but have the capability to serve additional areas if needed.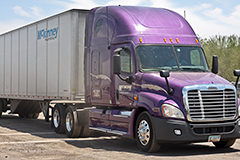 Over the years, we have established a strong working relationship with various companies in different fields of businesses. Our specialization is in the transport of general commodities requiring freight carriers to move products from one destination to another. Give us a call today to learn more about our trucking company and to request freight quote for any trucking service.
Why Choose Network Transportation as the Freight Carriers You can Trust
Expanding Routes & Service Areas throughout the West & Southwest
We are a leading freight carrier, centrally based in downtown Phoenix, AZ with routes covering all of Arizona and the 11 Western States. While our operations and routes are predominantly in the Southwest, Network Transportation is open to all opportunities to any destination throughout the country. We operate a growing fleet currently consisting of 30 trucks with further expansion planned over the next few years. We stand by our philosophy to provide our loyal and valued customers with delivery services that are competitively priced and professionally delivered.
Reliable Drivers for Professional Freight Carrier and Trucking Services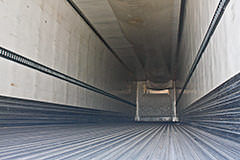 When it comes to freight carriers, it can be hard to know who you can trust. All of our trucks are operated by highly skilled and professional company drivers and owner operators. True to Network Transportation's commitment, our staff and drivers are committed to providing timely service and safe delivery of all products entrusted to us.
We are currently in the process of expanding our fleet by purchasing additional trucks and hiring new drivers. We are constantly hiring owner operators trucking providers and company drivers who share our vision of providing excellent customer service and our standards of professional service delivery. Unlike many freight carriers, we place a strong emphasis on the quality of drivers we employ, and we select only the best for reliable service.
Comprehensive Experience Serving a Variety of Industries
Network Transportation has the resources and capability to transport nearly any type of merchandise or commodity. Over the years, we have expanded our family of loyal customers and have an extensive experience working with businesses in a variety of industries. We specialize in the transportation of general commodities and have worked with businesses including:
Grocery warehouses/stores
Supply chain distributors
Raw materials providers
General distribution warehouses
Meat distributors
Recycling centers (paper, foam, metal and plastic)
General commodity manufacturers, warehousing
Broker and logistics warehouses
Long haul owner operators and company drivers
Domestic/national truckload
Independent and fleet owners
Tree/flowers and plant nurseries
Retail distribution
Pest control equipment and supplies
Learn More About Our Freight Carriers & the Services We Offer
As one of the leading freight carriers serving the Southwest, excellent product and service delivery is at the core of Network Transportation's services. We strongly believe in establishing a more localized and personalized business relationship with our customers so that we can provide for their unique business needs. Our freight shipping rates are among the most competitive in the business and we promise outstanding professional service. Give us a call today to request a freight quote or to learn more about the trucking services that we offer.
Mission Statement
Our mission first is to haul freight for our customers safely and timely.
Work to provide simple solutions to our customers and get it right the first time.
Create and maintain an environment for our employees and contractors that encourages "out of the box" thinking and ideas that will help us grow.
Build long term relationships through ethical and moral business practices with a commitment to continuous improvement.
CONTACT INFO
825 S. 63rd Ave
Phoenix, AZ 85043
Phone: 623-936-5865
Fax: 623-936-5826