Freight Broker / Logistics Services
Looking for a trucking company that meets your delivery needs can be a daunting task. At Network Transportation, we understand this and therefore, we also work as a freight broker to help our customers find the most affordable and practical shipping and logistics services for those services we cannot provide in house. This allows us to offer a higher rate of flexibility on dry, refrigerated, and flatbed trailer loads. Regardless of if you need year round service or one time rates, we can help you discover the right trucking company for your delivery requirements.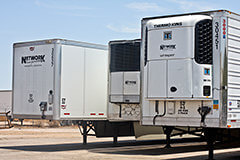 With our trusted network of carriers, our freight broker services allow us to quickly find dependable trucking companies for a wide range of needs. We promise the best shipping rates from trusted nationwide carriers. Call us today or request a freight quote online to learn more about our freight broker services.
Advantages of Working with a Freight Broker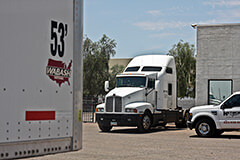 Flexibility and Scalability: Working with a truckload broker gives you the flexibility to find trucking services that best fit your needs and budget. Your shipping and logistics requirements may change throughout the year and finding the right trucking company to handle these changing needs may prove to be a challenge. A freight broker has the capability to find the right freight carrier regardless of your load. By having various carriers at your fingertips, you can rest assured that your needs will be handle regardless of the volume.
Additionally, our nationwide network of transport service providers can help deliver your goods to any destination in the United States. This will give you the ability to expand your business and reach new markets without dealing with logistics struggles.
Convenience: A broker can save you countless hours when it comes to managing your trucking and logistics needs. Freight brokers provide you with quotes from various trucking companies that can meet your delivery needs and save you the time and hassle of this. Network Transportation works with a network of trusted delivery companies and we can do the legwork for you. All you need to do is provide us your delivery specifications and we will take care of the rest. We handle all communication with the carriers from requesting quotes to managing your shipments.
Cost Savings: A freight broker can find the best deals for you when it comes to transportation and logistics services. With several options readily available, you can easily find the best rates that fit your needs and budget.
Availability of Services: Another benefit of working with a freight broker is a wide availability of service options. Our network of truckload carriers can provide a complete range of trucking options, from dry to refrigerated trucking as well as flatbed and hazmat delivery. This means that you can easily turn to us for whatever trucking or logistics services you need, and you can trust us for all of your transportation needs and services.
Trucking Service Providers you can Trust: A good freight broker will work exclusively with the best and most reliable trucking companies, meaning that you can depend on reliable delivery and service. At Network Transportation, we take a serious look at the companies with which we work. Part of our commitment as freight broker is to look for freight carriers that are legally compliant, possess exemplary driving and delivery records, and are manned with a team of fit and competent drivers. We also look into their safety record as well as maintenance procedures to ensure that all products booked through our brokerage/logistics service are delivered safely and on time.
Contact Us for Brokerage/Logistics Services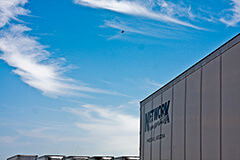 At Network Transportation, we believe in providing our customers with the best options when it comes to their freight carrier needs. Our strong working relationship with other trucking companies across the nation will provide you with significant advantages and access to the trucking and logistics services that you need. Therefore, we can develop a long term relationship, and will ensure that you will have the right type of freight of transportation for your delivery needs.
Call us today to request a quote for any transportation service or to learn more about our brokerage and other trucking options.
Mission Statement
Our mission first is to haul freight for our customers safely and timely.
Work to provide simple solutions to our customers and get it right the first time.
Create and maintain an environment for our employees and contractors that encourages "out of the box" thinking and ideas that will help us grow.
Build long term relationships through ethical and moral business practices with a commitment to continuous improvement.
CONTACT INFO
825 S. 63rd Ave
Phoenix, AZ 85043
Phone: 623-936-5865
Fax: 623-936-5826