Contact Us Today for A Custom Freight Quote!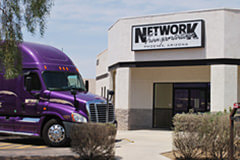 When you need a trucking company to handle all of your product transportation and shipping needs, Network Transportation is here to help. With a wide array of trucking services available, you can depend on us for complete trucking services throughout the Southwest. We offer reliable service at some of the best freight shipping rates and can provide a customized freight quote and a cost-effective solution to meet your trucking needs.
To request a freight quote or learn more, get in touch with us using the form or contact information below.
Why Choose Us for your Trucking & Transportation Needs
1. Solid Reputation
Based out of Phoenix, AZ, Network Transportation is one of the most reliable trucking companies serving the Southwest and the entire country. Since our founding in 2008, we have worked to develop a strong and continuous working relationship with our customers. We strive to provide reliable service and affordable freight quotes to keep our customers stratified.
2. Wide Array of Trucking Services
No matter what your trucking needs, we have the right type of transportation service to meet your delivery needs. You do not need to shop around as your needs change - we can provide you with a freight quote that is consistent with what you need. Therefore, you can feel secure in knowing that there is one company you can rely on. Our complete services include:
3. Expert and professional staff and drivers
We believe in providing owner operator trucking opportunities and truck driving jobs to only highly qualified and professional individuals who share the same passion of providing excellent customer service that we do. This ensures that our drivers deliver the best service for every route.
4. Commitment to Excellence
Network Transportation is committed to excellence. Our vision is to become a long-term partner with our customers and not just provide a freight quote for a one-time business deal. We are continuously growing and improving our operations and our fleet to make sure that we can provide our customers with the excellent service they demand.
Contact Us to Request A Free Freight Quote Today
Give us a call today to request a custom freight quote and to learn more about our trucking services. Our friendly staff is always ready to take your call and help determine how we can best meet your business needs.
Mission Statement
Our mission first is to haul freight for our customers safely and timely.
Work to provide simple solutions to our customers and get it right the first time.
Create and maintain an environment for our employees and contractors that encourages "out of the box" thinking and ideas that will help us grow.
Build long term relationships through ethical and moral business practices with a commitment to continuous improvement.
CONTACT INFO
825 S. 63rd Ave
Phoenix, AZ 85043
Phone: 623-936-5865
Fax: 623-936-5826