Dedicated Trucking Service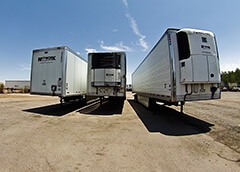 Product manufacturers, distributors, and retail stores often have a need for freight carriers that can provide dedicated trucking service to support their ongoing needs. Each business has its own unique demands when it comes to shipping and product delivery and it is important to have a trucking company that can accommodate the transportation needs vital to its operations.
Network Transportation specializes in creating unique dedicated trucking solutions that fit into the overall business objectives of the individual businesses with which we work. Get in touch with us today to learn more about how we can meet your company's transportation needs and to learn more about our freight shipping rates. You can also request a freight quote by contacting us online today.
Why Choose Us for Your Dedicated Trucking Needs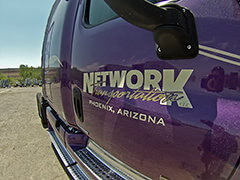 Your business goals are our top concern: Network Transportation believes in collaborative efforts between our company and the businesses with which we work. When it comes to our dedicated trucking services, we strive to create customized and specific solutions to meet your needs. Whether you need an on-going and long-term trucking solution or you need a solution to meet your temporary overflow needs, we can help. No project is too short of too long for us to consider a dedicated opportunity.
Cost-effective dedicated trucking services: At Network Transportation, the needs of our clients are a primary concern. We strive to provide dedicated trucking services that take into consideration your operational requirements as well as your budget by providing excellent service at competitive rates.
Customizable trucking services to match your delivery needs: With a wide range of trucking services available, we can meet your every need from dry van to temperature sensitive trucking. Our team of professional and expert drivers are dedicated to providing you fast, safe, and timely dedicated trucking service.
Commitment to safety and security: Network Transportation is fully committed to excellence with every service we offer, part of which means maintaining security and safety on and off the road. Our drivers are fully aware of all safety regulations and have the experience to ensure safe transportation. Therefore, you will have peace of mind knowing that your products and merchandise are in good hands and will reach their destination in perfect condition.
Learn More About Our Dedicated Trucking Services Available Throughout the Southwest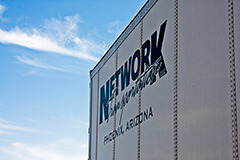 At Network Transportation, we are committed to providing you with dedicated trucking services that are in line with your business needs. Based out of Phoenix, AZ, we primarily provide dedicated trucking throughout the Southwest, but we can also handle deliveries and routes to anywhere in the United States as needed.
Give us a call today to request a freight quote and allow us to design a plan that matches your operational needs and requirements.
Mission Statement
Our mission first is to haul freight for our customers safely and timely.
Work to provide simple solutions to our customers and get it right the first time.
Create and maintain an environment for our employees and contractors that encourages "out of the box" thinking and ideas that will help us grow.
Build long term relationships through ethical and moral business practices with a commitment to continuous improvement.
CONTACT INFO
825 S. 63rd Ave
Phoenix, AZ 85043
Phone: 623-936-5865
Fax: 623-936-5826