Owner/Operator Jobs: Drive for Us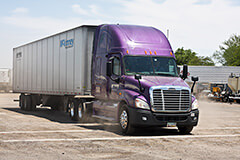 As a fast growing trucking company offering excellent trucking services throughout the Southwest and expanding across the country, we are constantly looking for new drivers to fill our growing needs. We have both company driver and owner/operator jobs available for experienced drivers looking for excellent opportunities. We keep our drivers on the road and provide our drivers and operators with competitive compensation packages and benefits.
If you are an experienced driver looking for the best in company driver or owner/operator jobs, we encourage you to apply online today. You can also contact us to learn more about the opportunities that we have available.
Our Truck Driving Job Opportunities
At Network Transportation, we have driver job opportunities available in two categories. These include owner/operator jobs and company truck driving opportunities.
Owner/Operator Job Opportunities
As a growing transportation business, we are continually on the lookout for owner/operator partners that can work with us on a regular basis to provide trucking services to our growing clientele base. For our owner/operator jobs, we offer competitive compensation and benefits packages that are considered as some of the best among owner/operator jobs in the industry. Find out more about the benefits and advantages of our owner operator trucking opportunities on our Owner Operator Page.
Company Truck Driving Opportunities
With our company driver jobs, you can enjoy the benefits of being a part of Network Transportation without the expense and requirements involved with owner/operator jobs. We offer our company drivers generous compensation packages and the convenience of driving our company owned trucks and trailers. Learn more about the requirements and benefits of our truck driving jobs on our Company Driver Page.
Whether you are looking for company driver or owner/operator jobs, answer our call and become a vital part of our growing organization today!
Our Company Driver & Owner/Operator Job Requirements
The following are some basic requirements for our company driver and owner/operator jobs: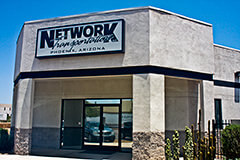 Minimum age is 25 years old
At least two years recent OTR experience
Completed application
Clean MVR report (no more than a week old) cannot have the following:

More than 3 moving violations in the past 12 months.
More than 6 moving violations in the past 36 months.
More than 2 chargeable accidents in the past 36 months. All accidents which appear on a MVR are considered chargeable. Determination of Non-chargeable accidents must be accompanied by a police report.
Drivers with a suspension, regardless of cause, within the past 36 months.
Two or more "following to close" or "tailgating" violations within the past 36 months.

Recent physical and drug screen, medical card and long form medical
Copy of Driver's License, front and back, and Social Security card
Additional owner/operator job requirements: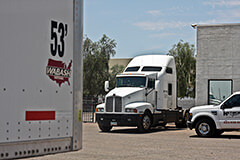 Proof of Bobtail and Physical Damage insurance (or it can be provided at additional cost)
Copy of title to truck or proof of purchase
Copy of Annual Vehicle Inspection
Power of Attorney form completed (to get plates for truck from State)
Current 2290
Occupational Accident insurance is required and available through the company if needed
To learn more about our truck driving job opportunities and the requirements for our company driver or owner/operator jobs, contact us today.
Mission Statement
Our mission first is to haul freight for our customers safely and timely.
Work to provide simple solutions to our customers and get it right the first time.
Create and maintain an environment for our employees and contractors that encourages "out of the box" thinking and ideas that will help us grow.
Build long term relationships through ethical and moral business practices with a commitment to continuous improvement.
CONTACT INFO
825 S. 63rd Ave
Phoenix, AZ 85043
Phone: 623-936-5865
Fax: 623-936-5826